Water Balloon Battle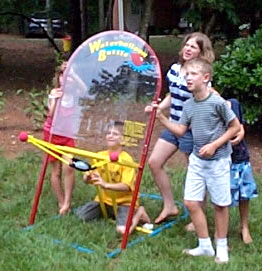 Water Balloon Battle IS A UNIQUE GAME CONSISTS OF THREE PIECES: 2 LAUCHING STATIONS AND A FILLING STATION. THE LAUNCHING STATIONS ARE PLACE APPROXIMATELY 30' A PART FROM EACH OTHER. THE FILLING STATION IS PLACE NEAR THE PLAY AREA & CONNECTED TO A STANDARD GARDEN HOSE. THE PARTICIPANTS FILL A BUCKET OF WATER BALLOONS AT THE FILLING STATION. THE BALLOONS ARE THEN LOBBED BACK & FORTH, TRYING TO HIT THE OPPONENTS SHIELD. ON COOL DAYS, SPONGES OR SPLASH BALLS CAN BE USED IN PLACE OF THE BALLOONS $375 2 player

See other Interactive Activities.